WIAW #28 – Noms and Motherhood
Hello, friends!!
After a brief blogging hiatus thanks to this little beauty:

I have returned with my favorite post of the week… What I Ate Wednesday!! I figured this was my best bet for getting a post up these days, as I haven't been cooking too much of anything new to share a recipe with you, nor have I been working out regularly yet, as I still have two more weeks until I see my doctor again (though, I won't lie, I've been trying to squeeze in a few minutes of yoga every day and I've been taking the little miss for walks in her stroller around the neighborhood!)
As always, shout out to our lovely host, Jenn, at Peas and Crayons!! First, we shall discuss my eats from yesterday…then…motherhood!
Breakfast: Every morning is a little different lately, as Emma's sleep schedule is still not exactly a schedule quite yet. Yesterday I was up from 4:30 to 6:30 nursing her and changing her and lulling her back to sleep but I went back to sleep and she woke me up at 9:00 with her "MOM I'M SO HUNGRY!" cry. So first thing as soon as I'm up I feed her for a half an hour while my belly rumbles. I'm starving by the time I get to make my own breakfast…which winds up being 2 eggs plus 2 egg whites with Frank's Red Hot, a whole wheat English muffin with smart balance, a handful of sliced strawberries, a banana, and a giant mug of English Breakfast Tea. While I was making my eggs…which were meant to be over easy…I heard Emma poop from two rooms away (she is a powerful pooper) so I ran to change her and my yolks cooked all the way through. If that's not unconditional love I don't know what is. 😉
Snack: My first snack of the day was a Kashi Chocolate Almond and Sea Salt with Chia bar…which is mighty tasty and fairly healthy for a prepackaged granola bar…while nursing the little lady. My second snack of the day, also enjoyed during a mid day nursing sesh, was a perfect plum! It was less than two bucks for two pounds of these babies at Wegmans this weekend and I was all over it!

Lunch: Lunch was kind of an ordeal yesterday. Just in that, in a perfect world, both snack times would have been lunch were I not feeding a hungry, hungry baby. I finally got the munchkin to fall asleep so I made this delicious taco salad. My father in law walks into the kitchen and says "it's quiet in here"…sigh…and right on cue she started screaming. I put my salad down, change her diaper to discover she had a huuuge blow out and I needed to change her onsie, too, and of course I actually put away the laundry so they were all upstairs. I finally had her dressed again and she starts sucking her hands like a maniac ( that's baby talk for "feed me immediately, woman" for those who don't know) so of course, I fed her…for forty minutes…while staring at my salad waiting to be eaten.

Snack: An oldie but a goodie…plain Greek yogurt with peanut butter, honey, and some chocolate chips. Although after 4-weeks it does feel like my appetite has finally evened out, I pretty much feel starving alllllllll the time. This snack helps. 🙂

Dinner: Sometimes I think everyone needs some cheese and bacon. Yesterday was one of those days for me. I had my cheese and bacon on top of some homemade potato wedges with some scallions, broccoli, and a quick chipotle dipping sauce (1/2 cup plain greek yogurt, 1 minced garlic clove, 1/2 of a minced chipotle in adobo, and a pinch of salt.) It was banginnnnn!

After dinner it was about 8:00pm and I made myself a glass of chocolate milk before I sat down to feed the baby again. By 10:00 she was satisfied, changed twice, and snoozing…so I hit the hay, too. We slept from about 10:30 to almost but not quite 1:00am before she woke me up for more noms.
Late Night Snack: These Luna Protein Bars have been a godsend during my late night feedings. They are pretty small but pack a whopping 12 grams of protein – which means I can eat them quickly and actually feel satisfied for a while! I enjoyed this bad boy in bed by the soft glow of a nightlight, while feeding my baby girl at 2:00am. Obviously I would choose the chocolate peanut butter flavor…but the cookie dough is quite delightful, too.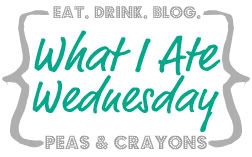 So there we have a full day of eats for nursing mom, me!!
NOW ONTO MOTHERHOOD!!
I'm not gonna lie to you…these last four weeks have been a whirlwind for sure! I am completely flabbergasted that my baby girl is four weeks old today and will be a full month old this weekend!! Even when my days have no real distinct beginning or end it's astounding how quickly time is going by. I'm doing everything I can to soak up the moments I have with my daughter while she's this teeny tiny person…but I notice changes in her every day and I can't help but be excited by what the future will bring!!
ABOUT BREASTFEEDING
My decision to breastfeed is one thing I receive the most questions about and I can say without hesitation that I know it was the right choice. "Are you sure she's eating enough?" is a common question. Here's a fun fact: yesterday I fed Emma for a grand total of 6 hours and 24 minutes. I've been using a fancy app the last two weeks recommended to me by my dear friend and fellow new mommy, Desirae, called "Feed Baby" which helps me to time and keep track of feedings, diapers, sleep, and it has been SO helpful! Then we get to "Are you sure she's not eating too much?" *sigh* Sometimes I think it's a bigger pain in the fanny to EXPLAIN breastfeeding to people then breastfeeding is itself! Even when I'm running on two hour of sleep at a time I am very patient with my baby. I am much less patient with grown-ups. Lucky for me, I feel very blessed that the important people in my life support my decision to breastfeed! I really wish more people would educate themselves about breastfeeding…and in general…before making assumptions about the well-being of my child.
ON MY POSTPARTUM BODY
Something I find particularly fascinating about some other women, and society in general I suppose, is how often you hear that a body is "ruined" after having a baby. It's so common to hear other women complain about how their body was never the same after giving birth. There was even a part of me that was concerned I may feel the same way after having Emma. I can tell you now, though, that I cannot for a moment understand how anyone can feel that way about their body after their baby is born. I LOVE my postpartum body. Sure, there are parts of me that are still squishy…I had a baby four weeks ago! But my squishy body was the home of my beautiful, baby girl for 40 weeks. My hips may be wider, my butt may be smaller, and my clothes may fit me differently, but I could NEVER hate my body after it gave me the greatest gift I have ever received. Once I'm in the clear to work out again, I will be doing so of course. But I certainly won't be obsessed with "getting my body back." What I will be focusing on is making the most of this new, beautiful body I have now, and seeing what other amazing things it's capable of doing.