Holy cow, dudes!
It's 2014!!
Can you believe it?! 2013 was a pretty awesome year for me, but 2014 is definitely going to be the biggest one yet!! (My belly will be the biggest to date, anyway. 🙂 )
We didn't get too crazy this year… and I'm totally good with it. Johnny and I just hung out at Melinda and Kyle's. Check out these party animals. 😀
This photo was taken at 10:30 last night. Dont worry, though, they woke up just in time to watch the ball drop and go to bed. Hehehe.
After grabbing some food and drink at Troegs, we went back to their place, ate some more, and then literally just sat on the couch from 8:30 to midnight watching New Years Rockin' Eve. I only dozed off once or twice during some commercial breaks. Did anyone else feel super old watching some of past performances?? Rhianna looked amazing and classy (not something I'm used to seeing these days) performing Umbrella in 2007…7 years ago already. It's hard to belive that in April, Johnny and I will have been together for 7 years! Sheesh! Time goes by so fast!! Though no matter how much time goes by, I'm not sure Johnny and I will ever be capable of taking a nice picture of the both of us at the same time. Heh. We're just goofs.
Obviously, that means we'll be awesome parents.
Right?
Good, I thought so, too. 😀
That's actually my New Year's Resolution this year : I resolve to take care of myself and, in turn, baby (who's heart is thumping away happily in my belly) to the best of my ability until baby is born and then to be the best Mommy I can be!
What about you? Do you have a New Year's Resolution this year?
To start the New Year off right, I had to partake in What I Ate Wednesday! Today wasn't too shabby. (I thought about taking picture of my food yesterday – taylor ham, egg, and cheese on a garlic bagel – root beer – fondue – poutine – pizza – and my weight in buffalo chicken dip. Buuuuuuut the photographic evidence would make me feel shame. Delicious, cheesy, carb laden shame!) It was wonderful to have the day off work. We got to sleep in and I made a super fun breakfast for everyone. Enjoy my day of eats!
Breakfast: I made some chocolate chip pancakes and bacon for everyone. I also enjoyed a clementine, which I can't get enough of lately, and some 1% milk. I actually wound up having another pancake after I took this picture. It was all delightful.
Lunch: Johnny and I grabbed a lite lunch at Wegmans today since we had to pick up some groceries. I just had a small cup of their chicken noodle soup, some saltines, and a glass of water.
Tea Time: I had a lovely cup of decaf Lady Grey when we got home from grocery shopping. I was sad this morning when I thought I had brought my tea with me to Melinda and Kyle's so I could have some with breakfast and it was nowhere to be found. I actually forgot it on the kitchen counter. *sigh* Pregnancy Brain.
Snack Time: I enjoyed a S'more Luna Bar (thank, Susan ;P) while digging into my new copy of "Orange is the New Black; My Year In A Women's Prison. " I swear, I always wind up reading anything a show or movie I like is based off of. I loved the Netflix series so much that when I saw this on sale at Target last weekend I had to snag it!
Dinner: Johnny helped me make dinner tonight! It was so much fun!! Definitely a great way to start the year off right! We made meatballs together – he was responsible for meatball construction while I chopped up all of the ingredients to add to them. I made a little spaghetti to go with it, but the meatballs were the star of the show. I also filled my plate halfway with a salad of butter lettuce, cherry tomatoes, red onion, carrots, red bell pepper, black olives, and a tiny bit of Italian dressing.
Dessert: Johnny got me a box of Lindor truffles for Christmas. He's so good to me. Hehe. I had a dark chocolate truffle to end my New Year's Day on a sweet note.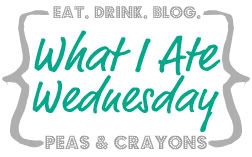 I hope you all enjoyed your New Year's celebration as much as I did. I'd love to hear your resolution if you have one!! Now if you'll excuse me, I have a puppy to snuggle and Top Chef to watch!
Happy 2014!