Hey Dudes! I hope you're all swell.  We made it to Wednesday!! (Thank, goodness!!)
I swear I'm already just having "one of those days." You know the kind I'm talking about. I've been lovingly referring to them as "pregnancy days." Where all I want to do is cry for no reason whatsoever and everything that comes out of everyones mouth sounds stupid and makes me want to punch them in he head. Doesn't matter what they say. "Hey Jen, look at this puppy!" *punch* "Hey Jen, I  ended world hunger!" *punch* Moody McMooderson today. C'est la vie. At least it's a little cathartic just to type it all out and share my crazy with all of you. 😀
Oh! And just in case you haven't had the chance to check it out…we found out if Baby Yoder is a boy or a girl over the weekend!!!! CHECK OUT MY AWESOME POST ABOUT IT!!!
Anywho, on to the foods! Thanks to Jenn at Peas and Crayons for hosting another week of the party.
PreGym Snack: So Johnny and I decided that this week we are going to give morning workouts a try. We've never really done it before, and we have no idea what our routine will be like post-baby, so we figured why not give it a whirl! I'm pretty sure he's enjoying it more than I am, but he also doesn't have hair to dry and makeup to put on in a locker room. We've been up by 5:35 and out the door by 5:50. I don't want to get up earlier, but I think we may have to if we keep it up. This means we're at the gym by 6:00 and I need to be in the locker room ready to shower by 6:45 so that I'm ready and raring to head to work by 7:20. I'd really like to be able to get in a full hour. *Sigh* Lots to figure out.  I'm really not super hungry when I get up in the morning, but I know I need to get something down. Yesterday I went with a piece of whole wheat toast with a schmear of smart balance and a schmear of strawberry jam. I poured myself that milk, didn't drink it, then used it for tea for the rest of the day at work.
Breakfast:  Even though it was only 8 degrees out yesterday I still went with a cold breakfast. An icy cold banana (because it was sitting in our 8 degree car while we worked out) with some plain nonfat greek yogurt mixed with a tablespoon on peanut butter, a teaspoon of honey, and a dozen chocolate chips. Cold, but flippin delicious!
Snack: I definitely could tell that I worked out in the morning, as I was much hungrier than usual after that breakfast. Around 10 I nommed on a hard-boiled egg, some triscuit crackers, and a french onion laughing cow cheese wedge. (French onion are my favorite! Do you have a favorite laughing cow cheese?!)
Lunch: I was thrilled it was finally time for lunch. I don't often have Lean Cuisines anymore, but when I do, the Tortilla Crusted Fish is one of my favorites. It's only 300 calories with 14 grams of protein and 9 grams of fat.  I actually cooked this up and steamed a cup of  some fresh spinach in the microwave at the same time. I mixed the rice with the steamed spinach for an extra dose of veggies and I topped the fish with some fresh avocado. I think that when you do have frozen entrees, serving them with a little something fresh in a bowl or on a plate (not the plastic tray it comes in) definitely makes for a much more enjoyable eating experience. I munched on this for lunch while Johnny and I caught up on some Parks & Rec on Hulu+. I love how Chris and Anne are having a baby this season!! They're so silly and perfect together!
Snack: Me and my Luna Bars. Chocolate peppermint stick is just too delicious for me to stop myself. I could certainly have worse addictions! I also had a string cheese on my way out the door at work…but I figured you guys have seen enough string cheeses for a while…so I didn't take a pic.
Dinner: Dinner time was fun last night. I'd never made white chicken chili before and I decided it was time I give it a whirl! I sauteed a white onion and yellow bell pepper in just a wee bit of olive oil just until they were soft.  I added about half of a chopped up rotisserie chicken, 2 cans of white beans, 2 cans of green chilies, a can of hominy, and half a box of chicken stock. I seasoned it with 2 teaspoons of garlic powder, 2 teaspoons of cumin, 2 teaspoons of smoked paprika, 1 teaspoon of chili powder, and 1 teaspoon of oregano. I also added the juice and zest of half of a lime. It was amusing, because of our AM workout Johnny was like "I don't know what to do with my time!" so  he started helping me with dinner by stirring the pot while I added everything to it. Then he was like " I don't know how you do this every night…it's so boring!" Oh, my love bug. What a nut! I also whipped up a quick batch of biscuits with some Bisquick Heart Smart Baking Mix. Just the baking mix and some skim milk whipped up together, dropped on a sheet pan, and baked for 7 minutes at 450. Done and done. Topped my chili with a wee bit of cheese, sliced avocado, and a squeeze more lime. It was delightful!!
Dessert: It's funny, I look at my day of food and I'm like "Good job, me. You worked out. You ate well. You're a rock star." And then I'm like…oh wait you're pregnant…go ahead and have that cookie.  Heh – just one though! And some skim milk. Definitely could have been worse, right? 😉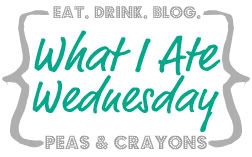 So, do you prefer AM or PM workouts? Why do you prefer them??
What's your preferred frozen entree if you resort to them??
Are you watching Parks & Rec this season?
Do you ever have a day of eating well and then finish it up with something less healthy?