Hehehehe. Gosh I just love, Stitch! He's my fave! He reminds me of my husband and my dog if they were combined into a single being…take that however you want it. Ha!
Anywho, I'm so happy it's finally Wednesday!!! It's been a pretty productive week for me so far, which is probably why this is my first post of the week!! Oops!! I had a loooovely weekend in New Jersey, a doctor's appointment on Monday. (I took my glucose test and they took some of my blood and I DID NOT pass out. That's two times in a row now where I've gotten my blood taken without passing out. I may very well be an adult just yet.), and had a pretty solid workout on Tuesday night. In fact, I'll discuss that a bit more in a few because this week I'm sharing my TUESDAY eats!
Thanks to Jenn at Peas and Crayons for the link up party!! Here's to the last What I Ate Wednesday of Winter (because it's officially Spring tomorrow no matter what the weather man says)!!! HUZZAH!!!
Breakfast: Breakfast for me yesterday was the same Berry Ginger Chia Smoothie I linked to a few weeks ago. It's so effing delicious I didn't care how cold it was outside. I enjoyed it with a big old mug of decaf green tea!

Snack: My first snack of the day was an Apple Walnut Flax Muffin (recipe tomorrow!!) and I had it around ten. It's soooo perfectly moist and nutty and cinnamony! I was hungry again around 11, so I nommed on an apple, served on my belly which seems to be getting bigger every day! I will be 28 weeks pregnant tomorrow and that is so crazy!!! I've even started to notice my belly wiggling around like jello when the little munchkin in there does her kung-fu! It makes me giggle. Every single time. Even if it's inappropriate. Like in a meeting at work. Oops! If I don't make eye contact hopefully no one will notice my giant goofy smile!

Lunch: For lunch yesterday I heated 3oz of shredded chicken in the microwave until it was nice and warm and then I mixed it up with about 1/3 of an avocado and a squeeze of lime juice. I smushed it all in a toasted whole wheat pita with some thin sliced red onion and crisp romaine lettuce. I'm usually all about spinach, but I really wanted the texture of the lettuce in this! Ya gotta change things up a little here and there, right? Right!

Snack: So thanks in large part to some fabulous strawberries I had over the weekend (that Susan so kindly provided me) – they are all I want to eat lately. I pretty much invented the best snack ever yesterday with some strawberries I had. I spread them with a cinnamon cream cheese laughing cow cheese wedge, and then rolled them in crushed pistachios. Sweet. Creamy. Salty. Perfect. Seriously. It's going to be an issue if and when I run out of these ingredients.

More Snacks: Well my tummy started rumbling agaiiiin around 4, so I had some roasted garlic hummus with about 8 baby carrots and 3 triscuits. I brought more with me, but after munching on all of that I decided that my belly was happy and I tucked the rest away for another day.

Dinner: I had a pretty decent workout last night, focusing primarily on my biceps and back…but I threw in some random chest presses. Oh well. I also did a 20 minute walking interval on the treadmill. Sigh. I am really looking forward to being able to run again this summer! I wanted to make sure I got my protein on when I got home, but also didn't feel like making a big elaborate dinner. Lately, when I'm doing my meal planning, I always have an "empty" weeknight slot where I just make eggs and toast. Last night was that night. Johnny gets 2 whole eggs plus 2 egg whites, 2 slices of american cheese, and 2 slices of whole wheat toast with some smart balance with omerga 3s. I made myself an omlette with 1 whole egg and 2 egg whites whipped up with some skim milk with red onion, portobello mushroom, spinach, and 2% mozzarella cheese. I had it with 2 slices of smart balancy toast, too. It was exactly what I needed!!

Dessert: Of course my life isn't complete without dessert these days!I'm really hoping to break this habit once baby is born and I'm less hungry all the time. Of all the desserts I could have though, I don't feel bad about this one…particularly because sometimes I eat it for breakfast!! It's just 1/2 cup of plain nonfat greek yogurt with 1 (okay 1 HEAPING) tablespoon of peanut butter with some chocolate chips on top!! I love everything about it!! And obviously I'm feeding my muscles with more protein…and my baby with chocolate chips. Nom!!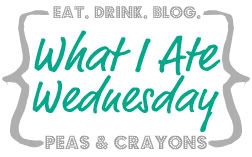 So dudes..what's the BEST thing you ate this week so far? I'm still reveling in my snack invention glory.

What's your favorite omelet filling?