I'm not sure if you've gathered this about me by now, but I'm not really much of a baker. I can safely say this is the truth for a few reasons.
First and foremost, I've always been more of the "creative" type in the kitchen and I always have a very hard time following recipes. It's not that I'm incapable of doing so. It's just that baking is so exact that, personally, I can never get that excited about it.
What's so exciting about following directions??
Nothing, I say!
That's what I've always loved so much about cooking. Sure, there are techniques that I may need to know or ratios that are important but, ultimately, every time I whip something up in the kitchen the best part, for me, is that I don't need to think about measuring or having things precisely a specific way and I know that whatever I make will still turn out delicious!
Another thing about baking is that the result of baking is so rarely healthy that I can't  justify even bothering to bake something. Sure, there are some baked goods that I adore. I love a buttery croissant or cheese danish, I swoon over carrot cake, and I have a hard time saying no to brownies (especially if there are nuts in them!). Luckily, though, it's always pretty easy for me to refuse a slice of chocolate cake, apple pie, or a big deli blueberry muffin.  As someone who typically advocates eating healthy, when I DO bake it's usually something  like my banana oat muffin/bars or something similar, where there is no white flour or butter to be found!
For Easter this year, though, when I decided to make breakfast for the family I knew that I wanted to have something sweet to accompany the quiche I was making and although fruit is delicious (and was had in abundance) I decided to give baking  something a whirl.  Another pastry that I enjoy and my husband in particular loves is coffee cake. Nothing too crazy about it. Not some fancy, fruity, glazed nonsense.  Just a lovely cinnamon swirl coffee cake.
I found a fairly basic recipe for a standard classic coffee cake and spruced it up to make it my own (because I just can't help myself). The batter is spiked with lemon zest and cinnamon and uses white whole wheat flour to get some fiber in your diet! I also used plain, nonfat greek yogurt to replace the traditional sour cream used in most coffee cake recipes and this recipe turned out perfectly moist and tender.  The cinnamon swirl contains oats and walnuts to bulk it out because I wanted as much swirl as possible without adding anymore sugar to the recipe.  The resulting coffee cake was delightful, especially paired with a steaming hot cup of English Breakfast Tea with milk and honey (or ya know…coffee…if you're like most people.) I hope you enjoy this recipe!
Cinnamon Swirl Coffee Cake
For the Coffee Cake
1 stick (1/2 cup) unsalted butter
1 cup sugar
2 large eggs
1/2 teaspoon vanilla extract
2 teaspoons lemon zest
2 cups white whole wheat flour
1 teaspoon baking powder
1/4 teaspoon baking soda
1/4 teaspoon cinnamon
1/2 teaspoon salt
1 cup plain, nonfat greek yogurt
For the Cinnamon Swirl
1/4 cup brown sugar, packed
1/4 cup granulated sugar
1/2 cup rolled oats
1/2 cup chopped walnuts
2 teaspoons ground cinnamon
2 teaspoons vanilla extract
2 tablespoons unsalted butter, softened
Preheat your oven to 350 degrees. Prepare a 9×9 inch baking dish with some nonstick spray and set aside.
To make he cinnamon swirl: combine the sugars, oats, walnuts, and cinnamon in a small dish. Add the vanilla and the softened butter and, using your hands, smush everything together until the butter is distributed and the mixture is crumbly. Set aside.
In the bowl of a stand mixer (or with a hand mixer if that what you've got) cream together the butter and sugar for about 5 minutes on medium speed until fluffy. Add the eggs, one at a time, vanilla extract, and lemon zest and mix until just combined.
In a separate bowl, whisk together the flour, baking powder, baking soda, cinnamon, and salt. Slowly add 1/2 of the flour mixture to the butter mixture with your mixer on low speed. Add 1/2 of the yogurt and combine. Add the remaining flour and combine, followed by the yogurt.
Spread half of the batter into the prepared baking dish. Top with half of the cinnamon swirl mixture. Top with the remaining batter, making sure you spread it out to cover the swirl, and top with remaining cinnamon mixture.
Bake the coffeecake for 45-55 minuets, or until a toothpick (or heck, I always just use a knife) inserted in the center of the coffeecake comes out clean. Let cool for about 10 minutes before serving…preferably to people you love…because you're not going to want to share this coffeecake with just anyone.
Do you have a favorite breakfast pastry??  
Do you prefer coffee or tea??
Last, but certainly not least,  don't forget to grab a badge and link up with your favorite real food recipe, today!!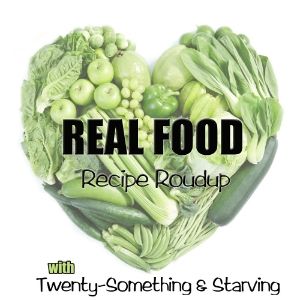 <a href="http://twentysomethingandstarving.com" target="_self"><img src="http://i63.photobucket.com/albums/h130/Jennifer_Yoder/46133fa4-d3da-44aa-bd3a-92bd35349c37_zps9dc148ce.jpg" alt="Twenty-Something & Starving" width="250″ height="150″ /></a>