Good morning, all!!  I hope you've had a great week so far!! Happy First Day of Spring!!!
Does anyone have any exciting plans for the weekend??
We're finally painting the nurseryyyyyyyyy!!!!!!! Eeeeeee!!!!!!!
Seriously, this pregnancy is going by so fast. Today I am officially in my third trimester!! WTF?!  (I'll be posting a bUmPdate tomorrow for anyone interested.)  Little miss Emma is going to be here before I know it and I genuinely cannot put into words how excited I am to meet my little yogi! 😀 😀 😀
Today I'm pleased to share with you a super delicious muffin recipe I came up with this week that tastes just like the fall…right in time for spring!! Ha. Oh well. It was so rainy and chilly at the beginning of the week that I felt like the warm spices would do me some good…and I was right…because these muffins rock. They're dense and chewy from the oats with a tiny bit of sweetness from the apples and brown sugar. You'll notice that there is no butter or oil or added fat at all in these muffins either! That's because flax seeds are high in omega-3 fatty acids (which, as a momma-to-be, are essential to my diet!)! I promise these muffins are still perfectly moist without any additional fat. I guess, technically, these are more like little baked oatmeals than muffins but tomato-tomatoe. I've also included some alternative ingredients to keep these both gluten free and vegan if you so desire. Please note, though, that the nutrition facts I've included at the bottom are for the recipe as it is written below.
Apple Flax Muffins
1 1/2 cups rolled oats
1/2 cup whole wheat flour
(you can use oat or almond flour to keep this recipe g-free)
1/2 cup flax meal
1 teaspoon baking powder
1/4 teaspoon salt
1 teaspoon cinnamon
1/8 teaspoon cloves
1/8 teaspoon ginger
1/3 cup dark brown sugar
3 large apples, grated
(skin and all)
1 cup unsweetened almond milk
1/4 teaspoon vanilla extract
1/8 teaspoon almond extract
1/4 cup egg whites
(I added these strictly to add some more protein to these muffins. If you're vegan go ahead and leave these out and these muffins will still turn out great!)
3/4 cup chopped walnuts
(optional, but I love walnuts in my apple muffins!)
Preheat the oven to 350 degrees.
In a large bowl, combine the oats, flour, flax meal, baking powder, salt, brown sugar, spices, and walnuts (if using). Whisk well to combine and set aside.
In a separate large bowl, whisk together the grated apple, almond milk, vanilla extract, almond extract, and egg whites (if using).
Add the apple mixture  to the oat mixture and stir until just combined.
Scoop mixture into a muffin tin prepared with a bit of nonstick spray.
Bake muffins at 350 for 25 to 30 minutes or until golden brown and set.
Let cool ten minutes before removing to a cooling rack and serving!
Nutrition (calculated on myfitnesspal.com) Per Muffin:
Calories: 156
Total Fat: 7 grams
Carbohydrates: 20 grams
Fiber: 5 grams
Protein: 5 grams
Sugars: 8 grams
These muffins freeze really well, too! Just pop it in the microwave to thaw and heat through and you've got breakfast in no time!! I've been serving mine up this week with some cinnamon cream cheese wedges from the laughing cow. I'm obsessed. They're 35 calories of delicious, cheesy, noms!!!
Also, you may be wondering why on earth I'd photograph my breakfast on a Pampered Chef catalog? Silly me. That's because I've started my own Pampered Chef business!!! I was a consultant a few years back and I loooved it, but I had a hard time keeping in touch with my recruiter who was based out of Baltimore. Not convenient. I just kind of decided on a whim that now is as good of a time as any to start throwing parties for people and earning them free and discounted products…because come on now…who doesn't love free stuff?! Especially free KITCHEN stuff. OOoooooo man I'm just too excited. I know that I've already picked out at least a dozen products that I can't wait to earn for myself…and I'm looking forward to helping other folks do the same!! (My mother-in-law is dying for the executive cookware set!) If you're in Central PA and you'd be interested in hosting a show – please feel free to contact me!!! If you're not in Central PA and you'd like to host a catalog show – go ahead and contact me, too!!
Last, but certainly not least,  don't forget to grab a badge and link up with your favorite real food recipe, today!!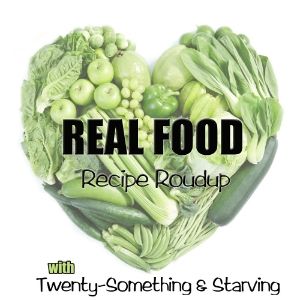 <a href="http://twentysomethingandstarving.com" target="_self"><img src="http://i63.photobucket.com/albums/h130/Jennifer_Yoder/46133fa4-d3da-44aa-bd3a-92bd35349c37_zps9dc148ce.jpg" alt="Twenty-Something & Starving" width="250″ height="150″ /></a>