Baby, It's Cold Outside! WIAW #6
Now that I'm back on the blog scene I though it would only be appropriate to rejoin super fun What I Ate Wednesday link up – brought to you by Peas and Crayons! (Check out Jenn's blog if you get the chance! I'm still meaning to make her sweet potato nachos! They look baaaannnggggiiinnnnn'!) Also, it's freeeeezing outside. So I deemed it necessary to title my post as such. I've also been listening to the She & Him version of Baby, It's Cold Outside – which I adore – on my "Christmas Tree Jams" playlist on Grooveshark. It's a pretty fabulous playlist, and includes a festive combination of  the Muppets, Peanuts, Michael Bublé, Trans Siberian Orchestra, Frank Sinatra, Ella Fitzgerald, Bing Crosby,  annnnnd Justin Beiber. #noshame
Anywho – here's my Wednesday of food!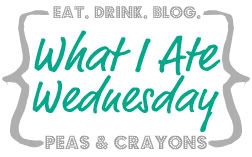 Breakfast: 
Two Wegman's brand organic flax waffles topped with two tablespoons of
PB&CO
Mighty Maple and a sliced banana. Also, "hot chocolate" made with warm nonfat milk and 2 teaspoons of Hershey's special dark syrup. I've been drinking SO MUCH of this lately. It's helping with my milk craving AND any desire I have for sweets. I was super full after this breakfast I didn't snack at all until lunch time!
Lunch: Now I understand that visually, this is not the most appealing photo I've ever taken. Buuuuut….my lunch was effing delicious. I'm obsessed with Morning Star Farm's Veggie Corn Dogs. Corn dogs were one of my more favorite carnival treats as a kid (that, and chicken fries, and waffles with ice cream) and these babies taste just as delicious as I remember for only 150 calories plus 8 grams of protein and only 2.5 grams of fat. With it I had some baby carrots and some leftover quinoa & cheese from last night. Holy goodness, I could (and plan to) eat that quinoa & cheese every day forever. QUICK NO RECIPE-RECIPE: Cook 1.5 cups quinoa in 1.5 cups chicken stock. When it's just about done add 2. oz fat free cream cheese, 4 oz. shredded extra sharp cheddar cheese, and a sprinkle of garlic powder. Stir it up until it's melted then try not to devour the entire pot.
Snack: One lil' Blackberry Blended chobani yogurt. These are so delicious…and adorable! I'm a sucker for anything mini!
Boy do I love this yogurt! I was also all smiles because it wasn't -10 degrees in my office today. Hooray!
Vitamins: Next up are my prenatal vitamins!!! I have these guys every day after lunch. I have a history of getting sick after taking vitamins, so I'm so thrilled I've found ones that don't make me ill. These are just OTC store Target brand prenatals, and they are delicious! They taste like a less sour version of sour patch kids and they are just delightful.
Snack: Today's #elf4health challenge was to pack a healthy snack for you and a friend! I pack my hubby's lunch on the daily, and our snacks are typically quite healthy. Today I packed some peanut butter chocolate chip larabars…which in my personal opinion are the best larabars everrrrrrrr!
Dinner: Dinner was a little random tonight. I went for a hair cut right after work and my husband decided he didn't want to wait for me to get home for dinner. C'est la vie!! I was going to make us some simple tilapia with a salad, but since it was just me I figured I'd do something quick and fun! I took garlic, olive oil, spinach, and cherry tomatoes, sauteed them until the spinach wilted, and added two French Onion Laughing Cow cheese wedges and let them melt into the spinach. I spread that on top of a nice hearty piece of wheat toast and throw two eggs (cooked over-hard) on top. Simple, qiuck, delicious. I also whipped up a quick little pomegranete spritzer – just Pom juice and some Polar Bear Pomegranate Seltzer – just for funsies!
Now, I plan to snuggle up on the couch with my baby Quincy watching My Grandmother's Ravioli with Mo Rocca on the Cooking Channel. I just need to stay awake for Top Chef tonight!!
I'm not going to lie – I'll probably munch on a handful of my dark chocolate and pumpkin seed trail mix I picked up at the trail mix bar at Wegmans last week, but you guys don't need to see that!! Happy Hump Day!